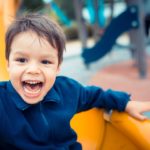 Choosing a preschool can affect your child's introduction to learning, their development and their interaction with kids their own age. Because the technical definition of preschool in the United States is a nursery school that is at least partially state funded, you can also look at nursery schools for a similar education for your child or children, without the state funding. Because not every school offers the same curriculum, teaching style or activities, it is important that you choose the right one for your child. The following information can help you with researching and choosing the best preschool in your area.
Early Education St. Louis
St. Louis Preschools

Phone Number
Attributes
Location 
 

Word of Life Preschool (Timothy Campus)

 314-781-8673
 Lutheran
 St Louis City
 

Word of Life Preschool (St Lucas Campus)

 314-351-2628
 Lutheran
 St Louis City
 Adventure Learning Center
 636-394-0600
 Private
 West County
 Agape Academy
 314-725-5262
 Abeka
 Central County
 A Growing Place Montessori School
 314-863-9493
 Monessori
 Central County
 Apple of Your Eye Learning Center
 314-638-1568
 Daycare – Preschool
 South County
 Apprende School
 636-225-0006
 Independent
 West County
 Busy B's Preschool
 314-773-2133
 Preschool
 South St. Louis
 Casa Dia Montessori
 314-892-4446
 Montessori
 South County
 Chapel of the Cross
 314-741-3737
 Lutheran – Early Ed
 North County
 Chesterfield Day School
 314-469-6622
 Montessori
 West County
 Children of Promise
 314-890-8757
 Montessori
 St. Louis County
 Childtime Learning Center
 636-282-2600
 Daycare
 Jefferson County
 City Garden Montessori School
 314-664-7646
 Montessori
 St. Louis City
 Clayton Early Childhood Center
 314-725-2325
 Daycare – Preschool
 Clayton
 Community School
 314-991-0005
 Independent
 St Louis County
 Cornerstone Center For Early Learning
 314-865-5244
 St. Louis City
 Creative Nursery & Preschool
 314-221-0230
 Nursery & Preschool
 South St. Louis
 Downtown Childrens Center
 314-621-1131
 Independent
 Downtown
 Elaine Rossi Academy
 314-968-3576
 Day Care
 West County
 Ethical Society Nursery School
 314-991-1353
 Nursery School
 Central County
 Faith Academy Montessori
 314-961-1411
 Monessori
 Central County
 First Congregational Preschool
 314-721-2716
 Preschool
 South St. Louis
 Forest Park Montessori
 314-535-6873
 Montessori
 St. Louis City
 Goddard School
 314-918-1210
 Montessori
 Central County
 Good Vibes School
 314-727-VIBE
 Independent
 Central County
 GSL Development Center
 314-385-0611
 Daycare thru K
 North County
 Hopemark Preschool
 314-832-8115
 Preschool
 South St. Louis
 Hope Montessori Academy
 636-949-0709
 Daycare / Preschool
 St. Charles
 International School House
 314-874-0715
 Independent
 Central County
 Kidsplay Childcare
 636-379-9494
 Daycare
 St. Charles
 KinderCare
 888-525-2780
 Daycare
 Central County
 Kingshighway Hills Preschool
 314-352-Kids
 Preschool
 South City
 Kirk Day School
 314-434-4349
  Daycare
 West County
 Learning Days Daycare
 314-209-0065
 Daycare
 North County
 Le Petite Academy
 877-620-0199
 Daycare thru K
 Jefferson County
 Little Sunshine Playhouse
 314-995-7204
 Preschool
 University City
 Mary Margaret Daycare
 314-752-2965
 Preschool
 St Louis City
 Montessori Learning Center
 314-487-5448
 Montessori
 South County
 Montessori Child Care Preschool
 314-892-5446
 Montessori
 South County
 Noah's Ark Daycare
 314-487-8507
 Daycare thru Preschool
 South County
 Our Little Haven
 314-533-2229
 Pre School
 St. Louis City
 Rohan Woods
 314-821-6270
 Independent
 Kirkwood
 Primetime Childcare
 314-892-1550
 Daycare
 South County
 Sacred Heart Villa
 314-771-2224
 Catholic
 The Hill
 Samuel Preschool
 314-721-5437
 Preschool
 Clayton
 Sappington Child Care Center
 314-843-4971
 Private
 South County
 Shirley Green Preschool
 314-569-0048
 Jewish
 Central County
 Simon Says Early Childhood Center
 314-842-3848
 Early Childhood
 South County
 Southside Early Childhood Center
 314-865-0322
 Preschool
 South St. Louis
 St Louis Montessori
 314-647-1400
 Montessori
 St Louis City
 St Lucas United Church of Christ
 314-843-1000
 Church of Christ
 South County
 Stix Early Childhood Center
 314-533-0874
 STL Public Schools
 St. Louis City
 Tower Grove Christian
 314-776-6473
 Christian
 Tower Grove
 Union Preschool
 314-647-0898
 Methodist
 Southwest St. Louis
 University City Children's Center
 314-721-0939
 Preschool
 University City
 UUM Preschool
 314-863-7904
 Preschool
 St. Louis City
 Villa Di Maria Montessori
 314-822-2601
 Montessori
 Kirkwood
 Village Lutheran Preschool
 314-993-6743
 Lutheran
 St Louis County
 Waldorf School
 314-962-2129
 Independent
 Webster
 Washington Montessori School
 314-361-0432
 Montessori
 St Louis City
 Webster Childcare Center
 314-968-3189
 Daycare
 Webster Groves
 The Westport School
 314-878-5339
 Daycare
 Westport
 Wilkinson Early Childhood Center
 314-645-1202
 St. Louis Public Schools
 St. Louis City
Location is an important consideration but not a deal breaker if you can get a better school that is slightly further away. An online search or a local city or neighborhood map can tell you all of the schools in your immediate location. Your best option is to mark down each school you are considering, and then research them. Checking local St. Louis school districts and policies on whether or not you can attend schools outside of your district is also important. Things to consider include travel time, potential morning traffic, whether you can easily make time to drive to and from the school on a daily basis, and the neighborhood.
What does the term Montessori school mean? If you have children, you may have heard the term "Montessori" when it comes to education. The term comes from the name Maria Montessori who created an educational approach based on her extensive research of children who had special needs. Although Montessori's work began at the turn of the 20th century, it is embraced today by many educational institutions.
St. Louis Preschools
Rating and Reviews: Checking ratings and reviews on the web can help you with choosing a preschool that offers the best care and quality facilities. Because you can easily see what other people think about the preschool with a quick search, you don't have to worry about not knowing what the school is like. A quick search can usually bring up the STL schools website and possibly social media as well, where you can read about policies, school information and potentially reviews and comments. Because all of this information can help you with creating an informed decision, it is definitely worth your time to look up.
Recommendations: If you know other parents with children who are the same age or older than yours, asking for recommendations is an easy way to get a good idea of which schools are worth considering. Most parents have a good idea of why they chose the school their children are attending as well, which means you can get advice, as well as opinions on the school from the parent.
Kindergarten Programs
Activities: A list of daily activities and options is important if you want to see what your child is spending days doing. While some preschools offer this information on their website, you can usually drop by to request a brochure or a tour without any hassle. This allows you to get a first hand look at what kids are doing, as well as a list of daily activities, lessons and offerings. If you want a tour, you should call in advance to arrange it, which allows you to see the facilities, children at play and how teachers and assistants interact with the students.
Teaching Methods: If you want your children to learn something specific or in a specific way, then choosing the right preschool is important. Options range from standard State based curriculum to Montessori or free choice education rooms, where kids can choose their own activities and lessons. One consideration is that different learning methods allow different types of freedom and person development, while others focus on teaching skills such as memorization and basic curriculum, which is immediately useful in kindergarten. Most preschools concentrate on allowing children to develop individualism and life skills such as interacting with others and verbally talking out arguments. Because social interaction is an important part of development for preschool children, a school that allows plenty of time for free play or learning in a social environment is a good idea.
Affiliations: Affiliations matter if you want your child to attend a specific type of Preschool. For example, you can find a St. Louis Catholic preschool or a Jewish one if you want an option with specific religion based curriculum or activities. At the preschool level, Christian schools involve some bible reading, and bible based toys, coloring books and information.  You can also look for a preschool that is completely unaffiliated if you want.
Choosing the right preschool is important because it affects a great deal of your child's social and learning development. Because there are multiple options available in most areas, you can do your research to choose a preschool that best fits you and your child. Because learning methods vary, you can also choose the school based on their curriculum and what school you intend to send them to next.